Sébastien Bonnaz, telemarketing genius. En-Contact and hipto podcast
Publié le 15 novembre 2023 à 05:55 par Magazine En-Contact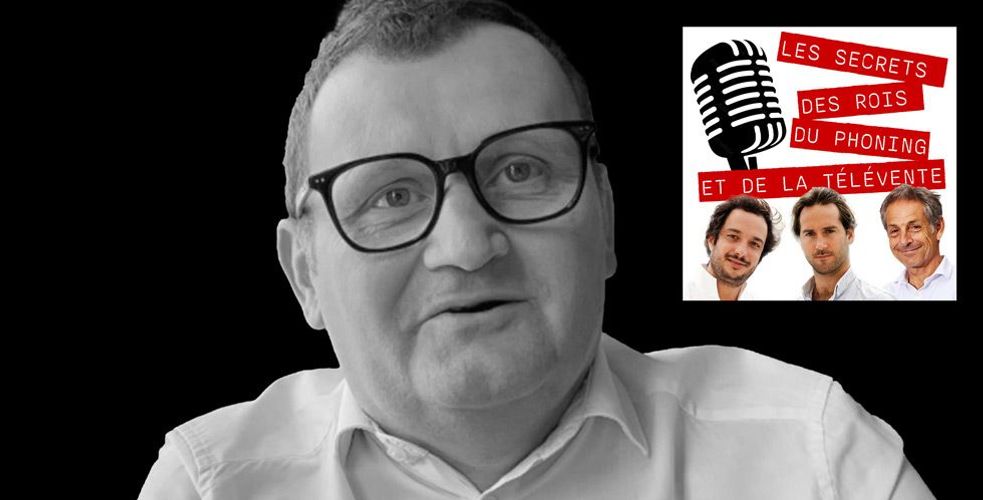 Cold calls are dead, say telephone professionals, and AI should replace everything. Genius telemarketers with great talent have their own vision of these two assertions, their own methods, and an ability to adapt to everyone and everything. From Geneva to Cotonou, with the support of hipto, we set out to meet these sedentary salespeople. Orange, SFR, fundraising, telephone sales of products made in ESATs or prisons, they have offered and sold everything. On their own, they can still enable a company, a cooperative or a political party in need of funding to end the year in the black, not the red!
This summer, in the USA, the documentary series Telemarketers was a hit on HBO; it tells the story of CDG, Pat. J Pespas and Sam Lipas-Stern Barely fourteen years old in the case of one of them, these employees and their colleagues raised almost a billion dollars over a period of years, in the biggest fundraising fraud ever committed. But the majority of call-centres are serious businesses with no history.
Taking a genuine interest in people, Sébastien Bonnaz
I was lucky enough to meet and work with Sébastien Bonnaz, one of the finest btob and btoc telemarketers I've ever met and listened to. When I thought of a dozen people to interview for this 1st series of podcasts on the geniuses of telesales phoning, his name immediately came to mind.
After completing his BTS in tourism, Sébastien started out in timeshare, a strange profession that flourished in the 90s, where a salesperson invites you to enjoy a week's holiday in a seaside or ski resort. Once you've had a taste of the product, the 'finishing' salesmen are in charge of 'nailing' the sale of a week, for life, for a few hundred thousand francs.
At the time, Scott Miller, a Scotsman, made a fortune in this business. I think he got into a bit of trouble with the law afterwards. The company was called Lagon Vert, I seem to remember.
In the 90s, it was sometimes on this kind of product that you worked, starting your career, but in the majority of cases with serious companies. To sell subscriptions to the Nouvel Obs, or create traffic at Cuir Center, Crozatier or others. Jelena Simic, Fodoa Atkins and Karine Lours all began their professional careers with Teleperformance or other companies, as they explain in the series Rue Firmin Gillot.
Sébastien went on to work in the social sector and fundraising at Orange
"At the operator, we were asked to calm down. Our outstanding performances made a mess of things and didn't stand out". He owes his latest job, in asset management in Geneva, to a dynamic call he made to the recruiter, who had discarded his CV without receiving it. "I managed to get his 06 back, called him up and explained that he'd been wrong to consider doing without me. And it was I who arranged the meeting for our interview.
Everywhere, her knowledge of files, the right hook, her resistance to stress and her ability to deal with objections combined to work wonders. Giving people the chance to see and listen to these discreet people, who have nothing to betray the fact that they are lords of the telephone and cold callers, is going to combat preconceived ideas. He, like Frédéric Szakal, Sandrine Bodo, Luka and all the others you will discover in the series, draw and compose a fascinating picture of these salespeople who have participated in the rise of omnichannel commerce. More than half have gone on to a job or career in which they use the telephone on a daily basis. Over 40% have set up their own business. So much for the figures.
The Times They Are A-Changin'
The business and the industry have changed. Call centres and BPO centres now provide customer service, content moderation and remote assistance. But they also continue to sell, through web call back or pure teleprospecting. And even in the age of AI, of data scraping on Linkedin with Lusha, Kaspr, Nomination, an effective conversation starter, on a well-qualified file, by a talented agent, changes everything!
For these teams, intentional leads and effective autoresponder detection tools often contribute to improved performance. That's why Manifone has been one of France's growth champions for the past four years, why hipto will have doubled its turnover this year, and why French sales compliance monitoring tools such as Callity are increasingly used and appreciated.
Some of these telephone stars now operate from sub-Saharan Africa, which has taken over from Morocco and Tunisia in the French-speaking market. Intelcia, Majorel, Webhelp, PCCI and Adm Value are all based there, but they have all followed in the footsteps of a pioneer: Charles-Emmanuel Berc. I once called him the Chuck Yeager of telemarketing.
In Cotonou this week, some of these companies are meeting for the 2nd session of the Africa BPO Forum. Vipp-Interstis and the French Ambassador are waiting for us. The hotels are fully booked.

Thank you hipto. These podcasts and videos are a great idea!
About hipto. For the past three years, hipto has been supporting players wishing to excel in the field of telesales, by offering each of its clients innovative solutions, adapted to each need, in order to guarantee the success of their operations. Don't let the potential of your telesales channel go untapped. With hipto, give yourself the means to reach new heights.
NB: the interview and recording were carried out in Annecy, close to the channel. Nothing has been edited out of what Sébastien has to say, and he sometimes reads his notes. Serious and diligent.
THE OTHER PODCASTS in the "Secrets of the Kings of Phoning and Telesales" series
Frédéric Szakal and his magic formula.
Gustave Flaubert was a genius at telemarketing and used to shout out his texts and writings. Frédéric Szakal has tested his magic formula on thousands of cold calls*. Podcast about a bon vivant from Grenoble who doesn't mind going up to the capital to make one last series of phone calls on a Friday evening.