What surprised me in Bogota, at Teleperformance
Publié le 13 juillet 2023 à 14:42 par Magazine En-Contact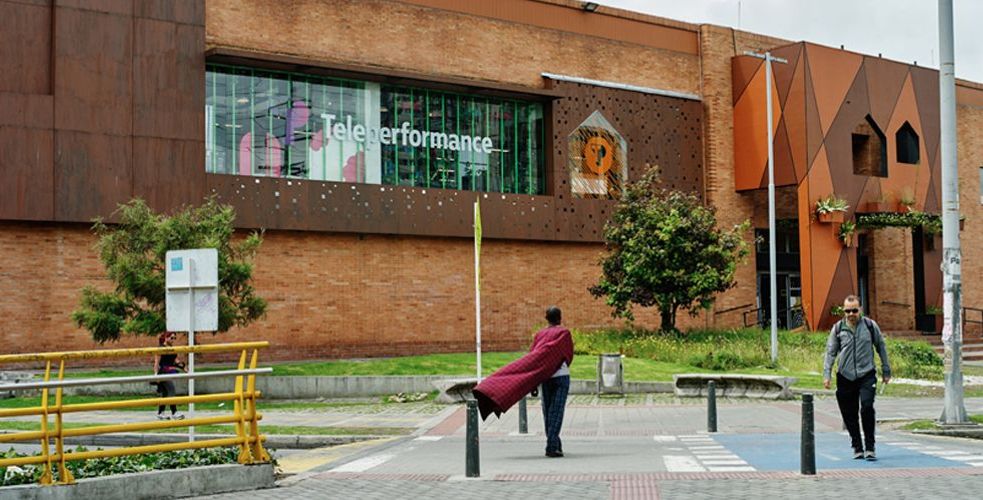 Manuel Jacquinet tells Benoit Hocquet what struck him during his exclusive report from Bogota, in Teleperformance's Trust and Safety division, which works with TikTok, among others.
BH: You say that the centres you visited resemble INSEP, the institute in Paris where future French sports champions are trained.
Manuel Jacquinet: Yes, you could also call it a hospital or clinic, where champions' mental and psychological health is prepared, but it's just as similar to the INSEP: the selection process is tough. Only 15% of candidates for positions in this division manage to pass the tests and numerous assessments carried out by Teleperformance. They are then trained and monitored on a regular basis, and everything - including some amazing activities - is done to ensure that the Guardians of the Internet are in good health while doing a demanding, complex job. They paint and practise painting, for example; I've seen them handle brushes and drawings. The moderation bibles, which set the standard for what can be published and broadcast, change very often, and the battle against deadlines to remove a problematic video, for example, is rigorous. For the video of the massacre in New Zealand, it took the moderators 17 minutes to remove it. In a similar recent case, TP achieved a performance of two minutes before the video was deleted from the platform concerned.
BH: Yet TP employees seem very happy and keen to join these Trust and Safety teams?
MJ: Both because it's a bit like the GIGN, the BRI in this sector, where you're exposed, at the heart of the action, but also because they feel and see that this job has meaning. This conviction that they are working for a safer, more liveable Internet, where they can let their wife, partner or children surf, is very strong and not constructed or manufactured. I interviewed a number of moderators on video, and they all told me about it. In France, in Europe, young graduates have no desire to work in BPO centres. But over there, the way in which Teleperformance has anticipated the new expectations of young employees (average age 26) and built its social model is truly innovative. The Labour Minister who tweeted about this on the Internet in October has since come back and said his mea culpa. Perhaps he has realised that he was a little hasty in his comments. The attrition rate (employee turnover over one year) is 4%, which is lower than in a Customer Service business. TP employees earn an average salary that is three times the minimum wage.
BH: Teleperformance's share price doesn't reflect your "enthusiasm" though. Teleperformance is one of the CAC 40 stocks that has fallen the most since the start of the year?
MJ: I'm not a trader, but I know and I've seen that finance is a sector where you can be very sheepish and follow what's going on. People say and hear, for example, that ChatGPT is going to wipe out or replace all the activities entrusted to the BPO. I think this is a big mistake. And my enthusiasm is not a form of enthusiasm: what I've seen and heard in Colombia, in these activities, you can't find out about on Bloomberg or behind a Reuters screen. You have to go out into the field. If I ran an ESG fund, I would look at the moderator attrition rate, for example, and try to get the real figures from their competitors.
BH: You run a trade magazine dedicated to this sector, to new marketing technologies, so perhaps your point of view is biased? Let's say you're looking after an advertiser?
MJ: I set up a magazine 23 years ago because I was fed up with reading articles written lazily, in my opinion, by too many journalists who write them from their desks, with a few exchanges on WhatsApp. And a few epinal images that satisfy them. Reality often contradicts you, if you go modestly to meet it. In twenty years, I've never met a single journalist* from TV or the big French newspapers - the so-called serious ones - who has visited a call-centre and taken the time to talk to a telemarketer or a call-centre planner before writing their article. They think they know or say they don't have the time, that the trip will cost money. Sometimes they worked there twenty years ago on a temporary assignment. They don't care that the sector has changed considerably. As Camus wrote, "to name an object wrongly is to add to the misfortune of the world. *If I'm being more specific, I remember a single journalist who went to visit a call centre in Amiens a long time ago: Laurent Richard, who went on to found Forbidden Stories. We talked on the TER train that was taking us to Picardy.
My relationship with Teleperformance goes back a long way, and it's a rough one at times, but it's one that has allowed us to build up a kind of respect. We were able to visit the Auto Norte and Connecta Campus centres without anyone checking up on us, and to have open discussions with the employees of our choice. And no one asked to proofread our papers.
This week, for example, I asked IBM to send an e-mail to their French president, Béatrice Kosowski. You're not even allowed to ask for her e-mail address. It makes you smile and gives you a good idea of the transparency of many CEOs and companies that we often hear, hi hi. Still on the subject of IBM, two former IBM executives are in charge of significant Teleperformance activities in Colombia. They told me, while we were sharing a meal, that they felt they had innovated more at Teleperformance, in two years, in the new activities they manage, than in twenty-two years at Big Blue (IBM). I run and own a professional, independent magazine that neither Xavier Niel, Matthieu Pigasse nor Rodolphe Saadé will ever want to buy: it's too small, and it talks about dirty jobs and the continents where they are practised, such as Africa. To put it plainly, no one was interested in this in 2000. But now there are global champions and moderation activities are putting this sector in an exciting spotlight. In Kenya, important judgements are expected concerning former employees of a Meta service provider, Sama. In my own small way, I'm happy to be in a profession that helps to tell the real story, sometimes changing the way we look at things. Teleperformance moderators see content that is considered complex for 40 hours a week (note: the legal working week in Colombia is 48 hours). They are accompanied by psychologists, they paint, they told me about their career, the joy of practising a profession that they think is useful, while I was filming them. These are facts. Not posts on Linkedin.
Teleperformance's Trust and Safety division employs 2,749 people worldwide, including 1,415 content moderators. It works with 32 clients and in 43 different languages.
The full report from these visits will be published in September 2023.