"The Neapolitan is over! Even Big Mamma is going backwards"
Publié le 22 mai 2023 à 10:30 par Magazine En-Contact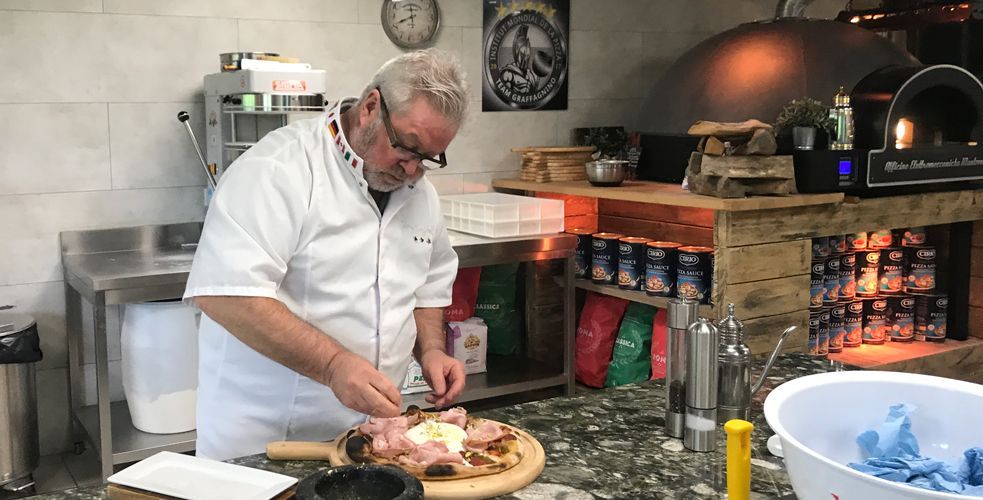 For Thierry Graffagnino, former three-time world pizza champion, paradise is when there's flour. And a robot. A meeting in his laboratory with one of the craziest French manufacturers of culinary experiences. And talented: it is to him that one of the world's greatest rock stars has reserved a private pizza preparation session for his next birthday in France. And it is him that the owners of Pazzi (Ekim), the pizza-making robot, have just hired as a consultant, for twenty years!
Preliminary remarks: before reading this article, remember that the interviewee's comments are not binding on the editors! Daring to talk about robots in cooking, daring to compare Neapolitan and Roman pizzas and to show one's preference, mentioning the unfortunate outcome of Ekim... should not provoke a lawsuit, please. There are too many of them at the moment, a sign of incredible tension, as soon as one steps out of the ambient conformism. A fortnight ago, we dared to talk about Alan, and we got blasted :)
Winning a scudetto will not change the course of history, according to him "For everything to change, nothing must change". Thierry Graffagnino, a passionate pizzaiolo and culinary innovator, could make his own the sentence of the Count in The Leopard of Lampedusa, with whom he shares Sicilian origins. He was the fairy who bent over the cradle of Pazzi, the robot-pizzaiolo that we had seen in action at Val d'Europe or next to the Georges Pompidou centre. "I almost had a bond with the robot and the impression of being a tutor who goes to a big family and learns good manners. Thierry is talking about it in the past tense because the Pazzi adventure almost came to a halt: placed in receivership, it was taken over by Franco-Swiss entrepreneurs (including Jean-Marc Brunschwig, co-CEO). In addition to the patents and IT solutions, they hired Thierry Graffagnino as a consultant... for twenty years! In any case, retirement is not for him. "I recently went on holiday for the first time in seven years, to the Dominican Republic, to Samana. After ten minutes, I was fed up. Paradise for me is when there is flour.
Meeting, in his laboratory in Montsoult-Maffliers at the World Pizza Institute, with Thierry Graffagnino, three times winner of the World Pizza Championship, winner of the Cornicione d'Oro in Naples, who is preparing to open a franchise in Portugal, and more if he likes. The highlight of the show was the tasting of the 1856, a pizza with basil-tomato cream, mortadella, with a creamy buratta at its heart, sprinkled with pieces of pistachio, designed in honour of Cirio, a historical giant of the Italian food industry.
Tell us about the Pazzi adventure.
Two engineers came to me with the idea of a pizzeria where everything would be done by a robot. Given that I was a three-time world champion, they didn't think I would agree to work with them. But I gave it a try. I've always been innovative, ten, fifteen years ahead of everyone else because I don't see why pizza shouldn't evolve. When they gave me a taste, I said to myself "what a disaster". If it was to do that, we would never have worked together. Fortunately I had planned ahead, I went to my car to get some dough, some good tomatoes and some good cheese. From there, the robot made a margarita and they saw the difference.
Is it the products that count to make a good pizza?
Pizza has three pillars: the dough, the toppings, and the cooking. You can have the best dough in the world and mess up the cooking, and it's not going to work. But the problem with dough today in this business is that nobody understands what they're doing. People are on their own, and the trainers that do exist don't even understand what they are doing.
The subject of gluten seems particularly important to you...
I've been in the business for 46 years and I've been interested in it for 30. In fact, few people know that gluten is not naturally present in flour. We are the ones who build the gluten, which consists of two insoluble proteins that appear on contact with water. And the advantage of gluten is that it retains the yeast, which allows the dough to rise. The longer you knead, the stronger the network. It will prevent the dough from being digested correctly, but at the same time it provides chewiness. And I have developed, with Les Moulins Familiaux, a flour that contains half as much gluten as the others. But today, this is not what is taught in training centres, which do not master the whole process.
So you are going against the grain?
I was always told "that's not how we do it, that's not pizza". I didn't agree, and that didn't stop me from getting good marks in competitions. I was criticised for working with conveyor ovens before anyone else, but they allow you to work twice as fast, with regular cooking like on a wood fire.
Isn't there a growing clientele attracted by an old-fashioned Neapolitan-style oven, covered in mosaics, and a certain idea of tradition?
Then you have to have an Italian pizzaiolo who sings all day, who does acrobatics with these pizzas. But in truth, that's a pizza maker's thing. And what does the customer want? He wants to eat a good pizza, to enjoy himself, at the right price, and at the same time be delivered on time. Today, people have less time to eat than they used to. Even in restaurants, you have to go faster than before.
So what went wrong with Pazzi?
Journalists from all over the world came to see the robot. Neapolitans were also very sceptical and found it incredible. But, in addition to the COVID context, and a certain reluctance on the part of investors who backed out, the wrong directions were taken. Let's just say that some of the company's managers or marketing team were a bit of a boogeyman, never ate meat, wanted vegetables everywhere. So we went for cards that didn't correspond to the pizza market. Pizza is not for the sick, I told them. They also set up in places that did not correspond to this orientation: the first shop was in a shopping centre in Marne-La-Vallée. Across the street, there is Primark with clothes for ten quid. We're not going to make pizza with salads. From a general marketing point of view, the robot was not highlighted enough, based on this fear that people might think it was stealing the pizza maker's job. The robot can make a thousand pizzas a day. If a pizza maker can make 100 pizzas in a shift, that's not bad. He has one arm that cuts, another that bakes, another that does something else. This was the result of a long R&D project, especially as the dough is alive, changing every minute, and requires us to adapt to it at every moment. Today, there is no longer a pump attendant. When I was a kid, there were petrol station attendants everywhere. That doesn't mean that there won't be any pizzaiolo, but it's a logical evolution. It's an ideal machine for airports, amusement parks, as long as you make a real show of it. The robot was the star: it had to be made into a story. Of course, all this is my point of view!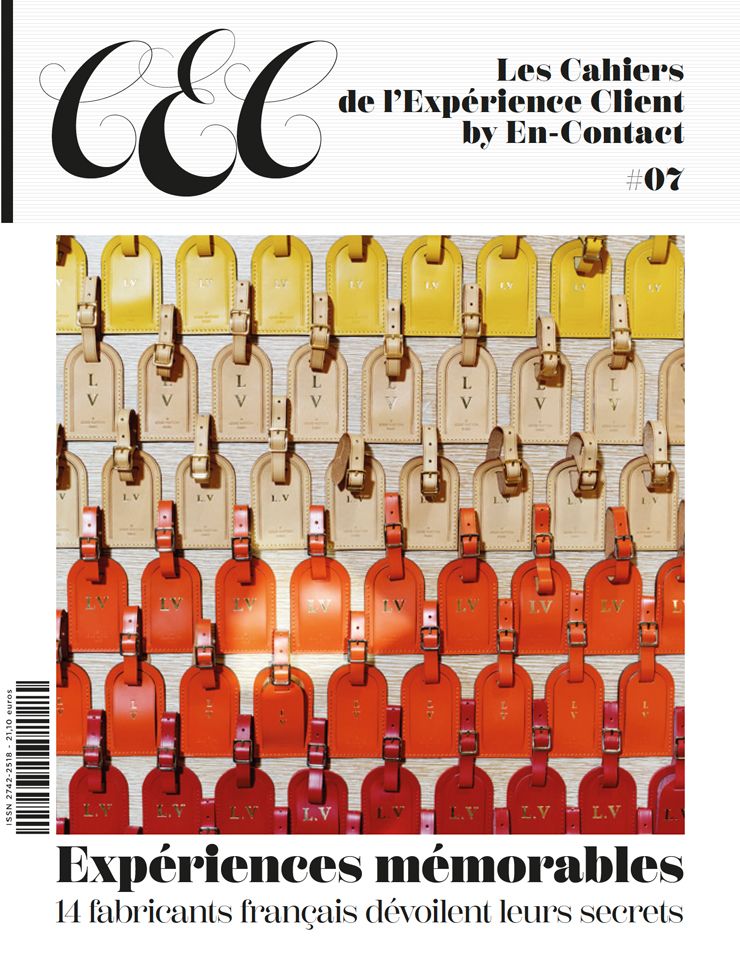 There is a public that demands better, more authentic products, that is in favour of a certain traditionalism.
There is a fashion for Neapolitan pizza that has taken hold since the arrival of Big Mamma, which at the same time has put quality products back in the spotlight. But they too are now partially backing off: they operate dark kitchens, do delivery and, in this business segment, their Neapolitan pizza doesn't work. For the delivered pizzas, they have changed everything: the edges of the pizzas are much smaller. The Neapolitan no longer works as well today and is losing ground because it is not what the French market expects. Times are changing, pizza must evolve, and it is evolving. The tomato was ignored for two centuries before it was cooked (...)
The rest of the interview to be read in Les Cahiers de l'Expérience Client #7, to be published in early June 2023. Interview by Benoit Hocquet. We discover a selection of 14 French "manufacturers" of memorable experiences, whether they are patient, traveller, customer or user experiences.