Old-fashioned, keeping his word and picking up the phone
Publié le 16 décembre 2019 à 13:21 par Magazine En-Contact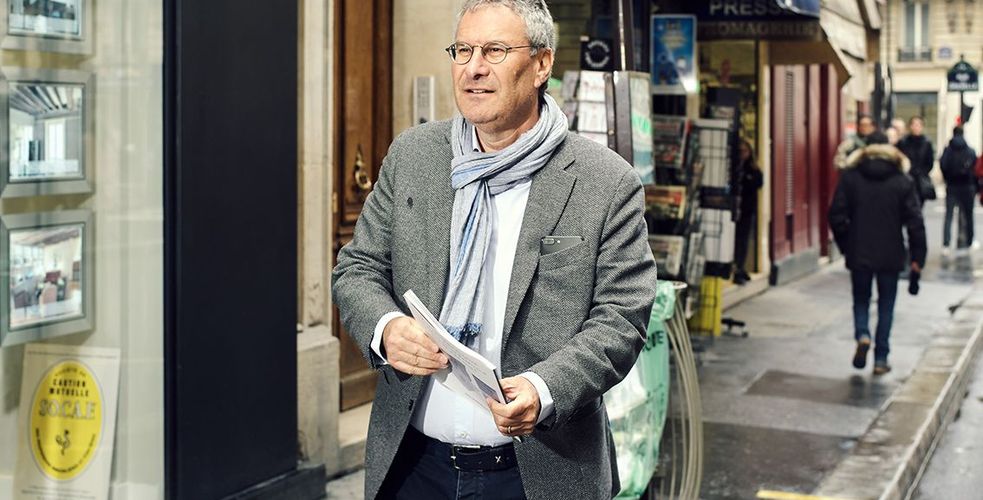 Born in September 1958, on rue de Lancry, in Paris' 10th arrondissement, Philippe Lederman went from Sentier to the beautiful neighbourhoods thanks to real estate & his patter affirmed by forty years of experience. But the truth is, he doesn't pretend: he likes customers and people. And does not lack courage.
The toilets on the landing
Before having his offices on rue de Grenelle, near the Ecole Militaire, Champ de Mars and the Eiffel Tower, Philippe Lederman grew up in more than modest conditions in the 10th arrondissement of Paris. His parents worked in prêt-à-porter: "I grew up in the workshop, we were working there. There was a nice atmosphere, even if the conditions were difficult: we slept with three in the same room, there was no toilet in the apartment, we had to go to a Turkish toilet on the upper floor and the kitchen served as the bathroom at the same time. The rest of the space was used for sewing with the machines. For me, it was a game, because I was a child." In the 1970s, his parents opened a shop on rue de Turenne, in the Marais: "Before, they drooled over it, they worked hard. I am not trying to act like Cosette but to summarize, they survived in a family where 95% of them were deported or exterminated. They married orphans. One of the uncles, who had survived the camps, helped them a little. Then, they learned to count only on themselves, with mutual aid, as there are between Aveyron, Breton, Basque, Corsican, Auvergne, etc … All were children of the war. It is very good mutual aid. "
Ledel? Quality raincoats!
Philippe Lederman specifies, however, that he did not really grow up in an atmosphere like the film La vérité si je mens, even if there was a lot of solidarity. "Between the ages of 14 and 20, I lived more in an Ashkenazi Jewish atmosphere. We ended up making money, working a lot, but today, sometimes even working hard, we don't really make a living anymore. A good trader earned it well at the time. Today, even the middle class is suffering, we see it with the movement of Gilets jaunes. To live as I lived from 20 to 30 years old, today, you must have sold – and for good money – your start-up! I was an only child, I really enjoyed it." The brand and family business were called Ledel, which specialized in raincoats and coats, as well as women's parkas. So he called his first real estate agency Ledel real estate, in memory of this period: "I sometimes see beautiful ladies, in the 7th district in Paris, who are still wearing our clothes! We produced quality products, with beautiful fabrics". Philippe Lederman continued the family adventure until 2004-2005, then the market collapsed with the arrival of "Chinese products, but not only that, from around the whole world".
The fall was terrible especially since our "hero" made a serious mistake: not to sell the location of his store when he could "The competition has become very fierce; impossible to compete with the new distribution. A brand like Zara sold its parkas with a sale price that corresponded to my cost price, from the factory outlet in France… I was no longer competitive on the price and at the same time, people started to make fun of the quality. While we had a good brand image, this demand for quality has disappeared. We then returned to the era of disposable and planned obsolescence, in all areas, except for the very large textile brands."
Bankruptcy, divorce, when everything goes into a spin…
Philippe Lederman filed for bankruptcy on the same day as the divorce petition that ended his first marriage. "A real turn in my life! I looked for a few months, I worked a little in art, galleries: I sold paintings, it's a passion, I always liked that. I love to buy but I can sell just as quickly. I don't get attached to objects. He then worked a little in restoration. He was offered a job in prêt-à-porter again, but the desire was gone. "In the 90s, while I was still working in prêt-à-porter, a neighbour who worked in real estate, in Cannes, said to me: 'Come on, we're going to make a move!', But it didn't interest me at all at the time. I was making a good living, everything was fine. I felt that when you do one job, you don't do two well simultaneously."
Once a negotiator always a negotiator
However, one fine day, because life is full of detours, Lederman landed an appointment with the director of the Saint-Ferdinand group and everything wasdone almost on his own. "I started working with this group in Neuilly, learning on the job, with women as directors and my direct supervisors and it went well. They even taught me everything. As I think I'm a negotiator at heart, I was hooked right away. I think that when you are commercial, you can be commercial in all areas. Selling is always the same. We don't sell an apartment like a shirt, but everything comes from human contact. Look at Stéphane Plaza, I don't watch his shows anymore but he is strong because he sold. He is friendly, human, laid back and professional. It's the secret. People must feel that they are committed and especially don't seem anxious, or stressed. And have no misplaced pride. The basic rule is to listen to the client, to know how to stand out. It's innate. Trade is instinct. It certainly works a bit because there are still rules, like not talking too long on the phone. But having a sense of communication cannot be learned. When I started in real estate, I was already used to dialogue and negotiation with people of high social standing. Selling an apartment for 1 or 2 million doesn't impress me."
---
---
I gave you my word
Philippe recognizes that digital has changed things in the business. Not social networks, but the web in general. Portal alerts have replaced cardboard cards. But he remains reluctant when it comes to virtual apartment visits ("It takes away spontaneity"), unless of course you live far away. "Nothing replaces human contact, the need to feel things on the spot. Without the internet today, of course I would lose 50% of my figure for the day. But I also encourage my employees to telephone, talk to each other, see each other by imposing the respect of immutable principles: I do not let myself be trod on but I would not kill my father and mother for a deal. And my word is my word: I'm a bit old school. Finally, whoever the person, everyone has the right to respect, it is a question of education." If he sometimes admits he has rare outbursts, it is when the hazards of business put him in contact with sires that he does not like: "I have trouble with parasites … Whether they are billionaires or more modest"
At the end of 2006, when one of the associates of the Saint-Ferdinand group asked him to become the director of an agency, he initially refused. "I would have gained 10% more but with a certain amount of associated problems, whereas I got along well with the girls of my agency. And I had found a taste for the work. We were working hard but having fun. The second proposal was the right one since I was offered to become a franchisee: we got together, we did this by shaking hands. Old-school!
By Guillaume Chérel
To order the book, click here.
Read more from Business is business, here.