Dominique Anract: Full contact Baker
Publié le 04 mai 2018 à 09:14 par Magazine En-Contact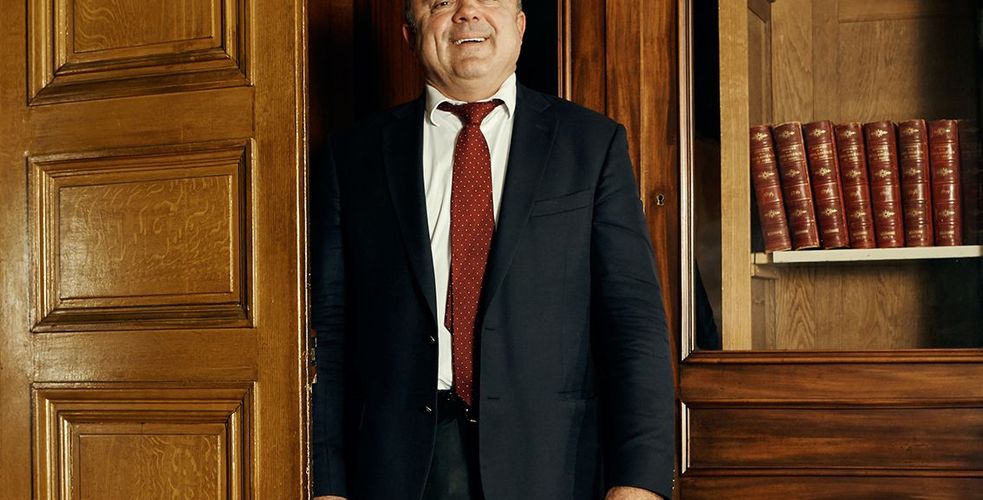 #Beautiful People//
France without baguettes and croissants would just not be French enough. Good thing there are 33 000 bakers in France! And bread is no joke to them: they are up at the crack of dawn to open their bakeries early in the morning, they spend hours in the heat of ovens, are hard workers, and neither the president nor Facebook (read about that here) can scare them off. Crust us, bakers do not loaf around.
This month, we have met one of these heroic bakers, and not the least of them! A round of applause for Dominique Anract, president of the National Confederation of French Baking.
Several journalists, who have written about the famous baker before me, have said that:
– he has the agenda of a minister. Indeed: his mobile phone rings incessantly, however, well-educated, he does not pick up during an interview, no matter who calls.
-he is a multitasker. Indeed: owner of the bakery La Pompadour, in the 16th arrondissement of Paris, he has an eye on everything and everyone. When he arrives in the morning, with his Honda Goldwing, he salutes his employee at the coffee machine, his clients as well (and he remembers their names!), all this while answering questions about his life.
-he is a committed activist. Indeed: at the head of the National Confederation of French baking for the last nine months, he has already started a ton of projects. He defends the profession: he fights for the right to be opened 7 days a week like supermarkets and he asked for the baguette to be inscribed on the UNESCO Lists of Intangible Heritage. And to discuss all this, it is Emmanuel Macron, the president, that he met at the Élysée, where he brought with him a giant epiphany galette.
What is the force that keeps Dominique Anract still going? What is the secret recipe of the spokesman of the 33 000 French bakers who welcome everyday more than 11 millions of customers?
Chapter I: The Burgundian judoka far from the academic tatamis
En-Contact: How did you become a baker?
Dominique Anract: At school, I was not a good student. One day, my teachers called me in: I had to pursue a vocational stream. I have to admit, me and my friends, we had a wild rumpus going on, but I was still shocked: how could I go home and tell that to my parents? My father was a baker as well, so their reaction was not as bad as expected, but for me, it was. I wanted to tell my teachers: « no, wait, can we start over? We were not ready! » but no, it was too late. I ended up in a professional high school, in Dijon, were I studied like crazy. I finished best apprentice of the region, and hang with the smartest students of the upper grades, the ones studying philosophy, for example. I had a desire for knowledge. I saw it as a revenge.
Did that desire for revenge get you far?
Well, no. First of all, because I was taking judo classes, and became regional champion. What got me far are projects that I planned, or rather the will to reach the goals I had set for myself: the black judo belt, a master after my CAP, a Triumph Spitfire bike, or even doing my military service among the Parisian fireman, and then, buying my very own business.
Dominique Anract during his study – © DR
Chapter II: From Phoenix, Arizona, to the Villa Montmorency, Paris

Looking back over your shoulder, can you tell which were the decisive steps?
Without a doubt, my departure for the United States. Arizona, precisely. Living abroad for some time, as a local, even if nothing has been prepared beforehand, is really something that I would recommend to any 20-year-old. I almost left on an impulse: I bought my ticked and landed in Arizona, me, my high school English and without a green card. And Skype did not exist in these days! However, with our profession, we are lucky enough to find work anywhere we go. A few weeks after, I asked Helene to follow me. She quickly found a job. Living far away from home, becoming an American but an immigrant at the same time (you should have heard my English!), really gave me more maturity, made a man out of me.
What happened after that?
The first business happened. My own business, with the joys and hard work that comes with it. I picked a place near the Villa Montmorency. Today, it is a well-known villa (where rich or famous or both live), but it was not at the time. Baking bread for Rika Zarai, Sylvie Vartan or for their children taught me a lot. The bakery had its windows on the little Bosio Street, kids came after school, it was a quiet zone, and affordable: that was it, my first venture.
Chapter III: Customers, the Élysée, bakers, reality
Is the clientele of the 16th arrondissement, seen as difficult and even posh sometimes, really that special?
There are, like in all places, indelicate people, who do not pay their debts for example, however, for the rest, it is mostly a demanding clientele, educated and attached to quality. You cannot fool these customers. But see, I myself enjoy this clientele so much that I have actually bought another bakery in the same neighborhood. Location is key. You have to settle where you feel well.
30 employees or more, a little tea salon, the national syndicate and its 30 000 members, what is the real difficulty that you have met? Or the next goal?
Do not laugh, but my number one priority is to render perfect the quality of my products and of our hospitality. To make them uniform. My syndical occupation takes up a lot of time and keeps me on the road: Élysée, Brussels (European Community), or Poitiers (last Bakers National Congress). But I do keep in mind that every single day, hundreds of customers enter my shop to get good bread, and can, and should want to, get as well the cake they saw in the display case. We have tried the click-and-collect system, but it did not work. Customers want to see the product, talk to the bakery girls who can help them with their choice.
All this must be thought through, just like a good loaf of bread, pastries or brioches. If I do not make a difference with these, my customers will go elsewhere, at the supermarket for example, where baguettes are also sold. And then, there are the things we cannot control: the coffee machine broke once, we called the hotline, but it took them a decade to get here. Nothing can be taken for granted, ever.
Dominique Anract and Hélène – © DR
Hélène, the bakery girls and the customers.
Behind every great man is a woman. Behind Dominique Anract, there is Hélène, his wife. The two lovers met more than thirty years ago. She even made the trip to Phoenix for him. Today, she mainly deals with accounting, human resources, and unearthing old pictures of her husband for our article.
Next to the bread stalls, the bakery La Pompadour houses a little tea salon, where, as early as 6 :30 am, the morning bread lovers can meet. Later in the day, the mothers of the bourgeois neighborhood come to chat after having dropped the kids off at school. And among them, even airplane pilots (as Gilles B.) or Quai d'Orsay's elders can be seen.
« I am a lover of good bread, which is why I come to La Pompadour. With my bread, I get a coffee and admire this science of hospitality and encounters displayed by Dominique: some days, I am here, enjoying my beverage, and Dominique, sitting nearby with a friend, will turn around and introduce that friend to me. My wife, who works in communication, finds this just as formidable as I do. The shops that do not see the importance of customer care are bound to disappear. In the neighborhood, for instance, there are a lot of private schools, and all request uniforms: a blue sweater, blue socks, etc. Well, even if everyone was desperately looking for these products, it took ages for the shops to finally provide them! Knowing the local customers, having stock, these are the differentiating elements that keep us away from Amazon, where you can find blue socks in a second or two. » Gilles B., pilot of a major airline company, knows what he is talking about: in his profession as well, customer care is a tricky thing.
By Manuel Jacquinet,
translated by Lucy Lavabre
Read our other articles in English here.
Here, the french version.
Retrouvez + de Citizen Kane sur En-Contact, ici !