MIRAVAL IS REBORN BUT HEROUVILLE HAS NEVER DIED
Publié le 23 février 2022 à 15:28 par Magazine En-Contact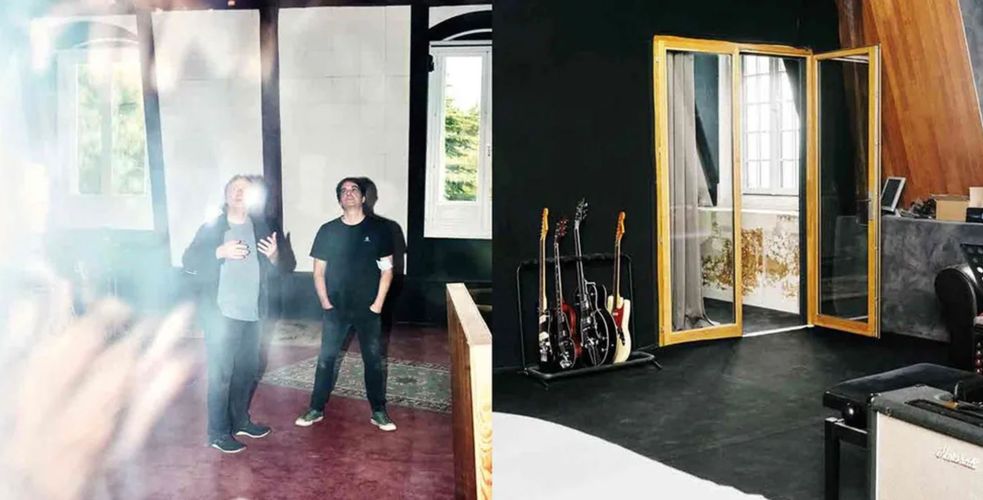 France has seen the birth of legendary studios such as Miraval in the South. But in the Val d'Oise, magical things also happened. Hérouville, the castle, Honky Château, does it ring a bell?
The book Studios of legend: secrets and stories of our French Abbey Road, which quickly sold out, is back in an enriched version. Interview of Manuel Jacquinet, its author and editor, with Franck Ernould.
Manuel Jacquinet: France has had, just like England or the United States, mythical and legendary studios, as the book – on which you collaborated for its 2nd edition – indicates. According to you, apart from the Château d'Hérouville, which you wrote so much about, what others French studios are legendary?
Franck Ernould: Among the great ones that disappeared: Europa-Sonor, Pathé, Barclay, Davout, Plus XXX, La Grande-Armée, Miraval... For their roster of artists, their ambition, their technical equipment at the time, the sound engineers (often salaried) who worked there alike. Each in its own way: Europa-Sonor for its incredible journey from a studio set up in a building to a complex of four major studios through which many artists passed; Pathé as the only (quadruple) studio designed from the get-go as such, which welcomed notable artists and sound engineers (including the Beatles and the Rolling Stones, thanks to EMI) ; Davout as a multipurpose structure, open to film music with a recording platform unparalleled in Paris; Plus XXX, for the vision of its owner Claude Sahakian and its international outreach; La Grande Armée because of how it evolved, from the two small studios to four and then three in the basement of the Palais des Congrès, and now possibly resurrected thanks to the MurMure project of the city of Paris.
CBE is still remarkable as a "small" structure whose sound and reputation were made by a single man, with home-made equipment and a place where, according to a certain logic, never a single record that made an impact should have been released.
Ferber, Marcadet, Acousti (now Saint-Germain) and Gang also deserve to be called "legendary", if only because of their longevity and their CV. La Frette still hosts the former Barclay studio console and several artists in an unusual setting. Guillaume Tell remains, under the leadership of its creator Roland Guillotel, an exceptional place, in a former cinema in Suresnes, and has just been equipped with a Dolby Atmos mixing booth... It is the last surviving representative of the Top 5 of the 90s (Plus XXX, Mega, Davout, Grande-Armée)!
A wink of fate, the name of the studio most known by the public at large today is probably Miraval, thanks to the "Brad Pitt/Angelina Jolie" effect... A superb place, which owes a lot to the residential concept showcased in Hérouville but moved in the middle of a vineyard in Provence, not far away from a pond. To make it even more alluring, it was a technically very well-equipped place, which had the chance to welcome Pink Floyd for a part of the album The Wall (the cover mentions "Miravel"). International fame followed, with a series of high-profile artists, who did not always use the huge studio, but rather the very large cabin, not to mention the pool of course. Today, Miraval has mostly become the name of a luxury winery. The founders, Jacques Loussier and Patrice Quef, are both dead. A project to relaunch the studio is underway...
Is the boss, the founder, as integral to the legend of a studio, as its acoustics, the console or consoles that remained there?
It is the boss who creates the studio, who knows on one hand the customers, on the other the backers. He has his own vision, knows the market and his competitors: he is finally master on board, chooses the material according to his own criteria, in short, he drives the car that he was simply allowed to drive when he was a mere employee or freelancer. It's exhilarating, especially in the 70's, when the "magic leasing", combined with the technological boom, allowed many to throw themselves into it. But without a manager, it's very hard to keep going.
In the days of the pioneering record companies or independent studios, it was the "chief" sound engineer who assumed the role of official representative: let's mention Claude Wagner at Pathé, Gerhard Lehner at Barclay, Roger Roche at Europa-Sonor, Jean-Pierre Janiaud at Gang, Pierre Fatosme and then Jean Bonzon at Dames/Philips...
Some are great communicators, others great producers; some spend most of their time performing, others are chained to the console. In any case, a studio is a lifetime project, a bit like a restaurant for a great chef: the boss is the first to arrive, the last to leave, he manages the day-to-day business, the administration, the taxes, in addition to his job. In short, he dedicates his life to the studio. Sometimes it means for him living above or next door! Ferber would not be what it is without René Ameline, Plus XXX without Claude Sahakian, Guillaume Tell without Roland Guillotel, Mega without Thierry Rogen... And even if he is not a sound engineer, Jean-Claude Dubois has strongly shaped the destiny of the Grande Armée studio, as has Zach Hanoun, who succeeded him in the early 2000s. As for Renaud Letang, Ameline's successor at the head of Ferber, we can't say he didn't deserve it.
Are the great French studio bosses great temperamental people?
Like all bosses, right? ;-) A lot of studio managers are indeed known for their strong character, let's not name names. A slightly "gruff" side can dissuade, in a meeting, from incongruous requests or questions, or discourage a freelance sound engineer from coming to complain. The trick has also served many maintenance engineers... That being said, the studio is a place where the psychological side is very important, the relations with the clients and the record companies essential: a good manager knows how far to go. And even if he sometimes shouts, he is there when it is necessary to absorb a hard blow or to find urgently such or such material, such or such musician or instrument, to upset the planning for an impromptu additional session…
Does our heritage in this field deserve to be better known and preserved?
It's obvious... French studios have nothing to envy, technically, to those of the rest of the world, and have contributed to write the history of popular music in our country - even if its cultural influence remains limited, most often, to the French-speaking world.
In England, when the Abbey Road studio was targeted for development, a front was immediately raised against the threat. Producer Joe Meek's home studio, Holloway Road, is honored with a commemorative plaque. In the United States, the musical heritage is more valued (even if some mythical studios have ended up as luxury apartments). In France, there is no sign of the Pathé, Dames, Decca, Barclay, Davout studios, it's a pity... I had started to work on a "historical visit of the Parisian recording places". But at current real estate prices, who will "freeze" a large structure like Davout? After all, even Radio France has abandoned its Radio Museum, which is unique in the world. Here, the written word, painting and images are important, but sound is not.
Small quiz, even if it's very public :) Pathé Marconi, Hérouville, Davout, Ferber, Miraval, CBE, Gang, what's your own little hit parade?
Hérouville, Miraval, Davout, Ferber, Gang, Pathé, CBE.
Photo de Une : Jean Taxis et Thierry Garacino au Château d'Hérouville - © Edouard Jacquinet
Beau livre enrichi avec des photos exclusives. 400 Pages. Poids : 1,5kg !
Découvrez des contenus exclusifs, vidéos, interview et sons, ici.
Edité par Malpaso-Radio Caroline Média.