Four snapshots that tell you everything you need to know about the Salon Stratégie Clients, 21st edition
Publié le 06 avril 2022 à 11:40 par Magazine En-Contact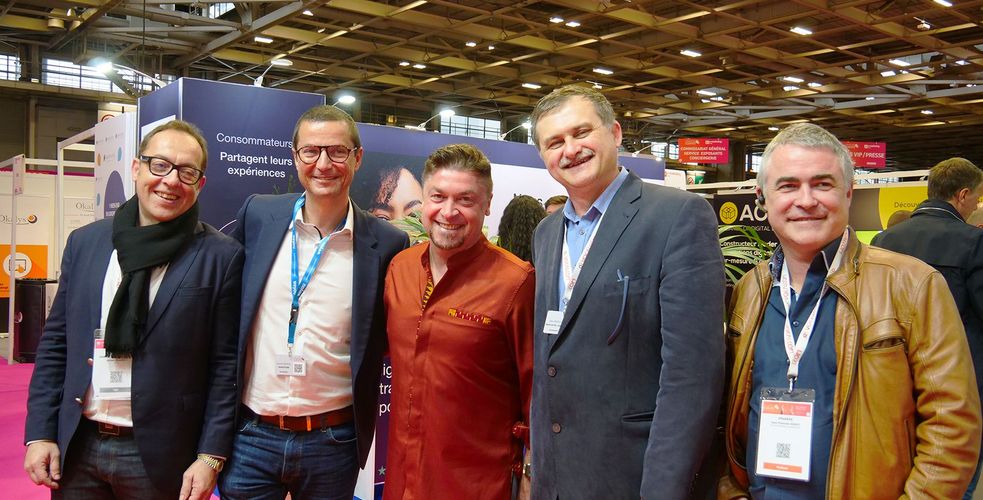 If you care about customer experience or customer journey and make business with French guys, should you go to the two main events dedicated to this topic: Experience Client The French Forum and Stratégie Clients ?
This was the 21st edition of the ex-Seca, under the direction of Ghislaine de Chambine who will soon take a well-deserved semi-retirement*. Contacting prospects all year long, who are often unreachable, is exhausting. GDC and her pal Eric Frazier did the job. As proof, several new dynamic telecom operators eager to make their services known who explored for the first time the premises, and along the way, discovered an incredible magazine on customer experience and call centers. But we also met SNCF teams or ambitious young people, such as the whole team of Amicio (ex-Relaytion and Meilleur Contact).
Wissem Bouguila, Sales manager of Yootel, can't believe (front page photo) that he came across such a magazine, replete with information on prospects.
Like every year, the dream team of the French-speaking telemarketing industry gathered almost every day at the Manifone stand, cheerfully and generously welcoming a new Romanian software big shot, Mediatel Data, whose mere efficiency was enough to attract customers from all over the world (From left to right: Ahmed Belhasen, Lounis Goudjil, Charles-Emmanuel Berc, Dan Mazilu and Jean-François Hugo from IPgarde). Thanks to Manifone, whose motto could be: "when equipped, no one should fear you", all the notorious inconveniences associated with telemarketing are cast off.
Ringover, a discreet but much appreciated competitor of Aircall, had delegated its entire team, largely female in its management and marketing sectors, fully appreciating the quality of the visitors and leads at the salon. 1st prizes go to Diabolocom and CaretoCare for sustaining the best occupancy rate at the stand and looking around for potential customers rather than at WhatsApp.
Conveniently located at the right entrance of the show, with a well-stocked buffet, Innso, Sitel's software subsidiary, was very sought out: headhunters specialized in retail could even be met there, such as Christophe Morel D'Arleux (Chantal Baudron) – the guy who looks a bit like Sean Penn in the rare movies where he sports a mustache. Retail is also about customer experience. And the provision of a busy buffet right to the evening contributes seriously to the visitor experience. Elementary my dear Watson?
Where is Orthodidacte? (about the importance of details, which AI can't do anything about yet). Who has seen Valérie Maucotel?
We also noticed that at 4pm on Thursday, March 31st, some stands were already being dismantled: should the salon be shorter? Is the commitment rate of sales teams one of the worrying issues of a strange era in which a nurse assistant is paid the minimum wage while the lower salesperson in the world of CRM software is paid 60k gross per year, once he or she has more than two years of experience and knows how to babble a little on Linkedin? We didn't see any demonstrations by unionists about pee breaks on telephone platforms this year, but we did hear about benevolence and hybridization of the customer experience during the conferences. "
Ghislaine de Chambine's successor, take heed, whispered a dynamic player in the market: "A VIP area at a salon dedicated to the customer experience, where the wifi doesn't work, no power outlets are to be and you have to ask for coffee several times, there is something to smile about. Where to turn in order to resolve that legitimate frustration? VIPARIS, which hosts the event, or Weyou, the salon organizer? The question will remind employees of large companies that each apostle of the customer journey has... their own silos to break. After two years of webinars, however, all the crowned heads of CRM, UX and customer journeys were happy to step on the orange carpet. Otherwise, there is, in some areas... a bit of work :) stands' layouts to start with: on Educlever's, which markets the famous method for learning French (Orthodidacte), we could barely distinguish the name and logo of the brand – which has cost sirs Michael Hiroux and Frederic Szakal so many years of effort along the years. When it comes to service and attention to detail, take heed.
See you next year, if you don't mind? For my part, I will be back at SECA (I loved that name), as a visitor. I have set myself the challenge of meeting in person the marketing director of the TGV SNCF, the lady who often sends out satisfaction surveys post-travel. I would like to ask Valérie Maucotel (that's her name) what they do with them at the SNCF. Is there a club, a Bilderberg Group of the senders of customer experience measurement tests that we never hear from afterwards :)? To get an answer to this kind of question, you have to contact the SNCF communication department, which meets in a council "to find an available spokesperson". Ouch, there is work to do!
*Ghislaine de Chambine is still the director of the Educatec trade show. My job as an independent publisher and the freedom that comes with it sometimes make you think that we are often and only critical in our posts or articles. There are important points on which I would like to thank Ghislaine, whatever our differences might b, and which does not require a large investigative article, those are her commitment and her extreme availability.
In September, the 10th edition of the first event dedicated to customer experience will take place in a famous resort: La Baule. More information there.