Covers and articles that left their marks in the life of our magazine En-Contact
Publié le 02 mars 2021 à 15:04 par Magazine En-Contact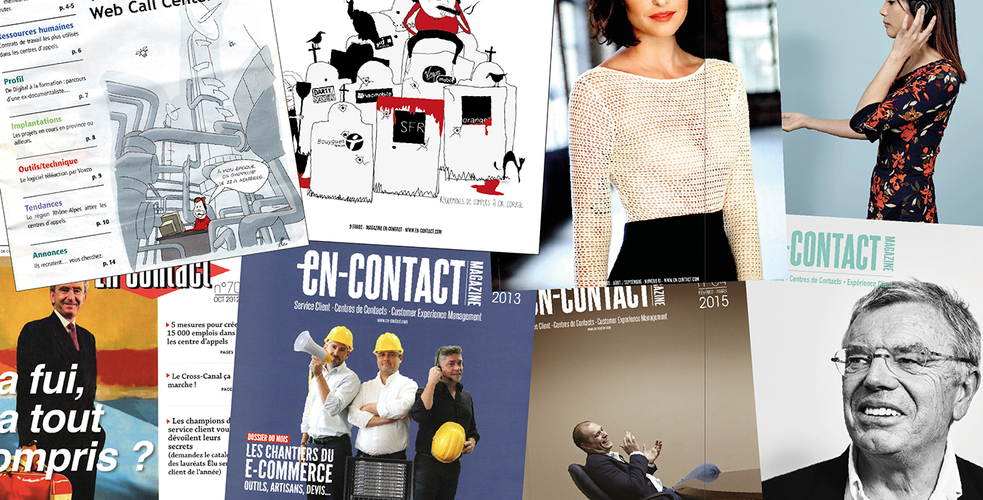 Edited by Malpaso-Radio Caroline Média, En-Contact is one of the most French famous magazine dedicated to Customer Service, Customer Experience. In a former Tweet, Carson Block, from Muddy Waters, wrote that En-Contact was one of the seldom newspapers saying the truth about Solutions 30.
01
Factories of the third millenium
Let's be honest, the cover of the 1st issue of the magazine doesn't shade the New Yorker cover, and I hope we have improved since then. It shows the conditions in which the magazine was born. At that time, our graphic designer is a young, barely graduated creative and he knows a thing or two about drawing. He did what he wanted and the title is the reflection of my irritation about the quality often linked to the call-centers.
68
Xavier Niel sat on his competitors' graves
At that time, many prices podiums exist and decide or classify with more or less rigour –in our opinion- brands that challenge each other on customer service quality. For instance, Bearing Point and TNS Sofres have created the Client Relation Podium. However, despites our persistent requests, we were never able to get access to this ranking's methodology. This year, the troublemaker Free (lliad) crashes into the mobile phone industry. It is, at the same time, victim of its own success and proves itself unable to deliver thousands of Sim card to its first customers. With this cover, we are surprised that the brand, innovative nonetheless, can win the price of customer service. The associate article, that we will publish, would produce judicial threats quite serious from a research firm who lost big contracts due to this article
70
Bernard Arnault leaving France
The cover is a pastiche of the Liberation's cover which, a few weeks before, ran as a headline "Get out!" to one of the biggest French businessman. We are making fun of the tendency of some medias and newspaper to tell the good, the bad, what is right or not. But, in the haste, we forgot to put the name of the Editor and the Executive Editor in the magazine's masthead. This is a huge mistake, almost unforgettable.
76
Louis Prunel, Nicolas Marette et Charles-Emmanuel Berc
Why would it not find Village People in the CRM industry or at least an allusion to this world? The picture was taken in a hurry a Friday morning, boulevard Brune in Paris.
81
Sophia Amoruso, a Silicon Valley it girl
Sophia Amoruso is a Silicon Valley it girl, whose company blew up since then (Nasty Gal). Putting a pretty girl on the cover will cause some outraged reactions from our readers (we could see her bra, so it seems…).
84
A call center Manager in Las Vegas
We heard so many times that call-center jobs was hell. The picture of Cassidy Klundt, taken without instruction, in the office where he welcomed us before visiting the centre, seems kind of a thumb our nose at picture-postcard images. And because no communication manager or press secretary was watching us, the wires in the background won't be erased from the picture.
95
A telesales agent in Plantronics company (now Poly)
In the customer service centre located in Tijuana (above their factory), in Mexico. Responding to the one of Cassidy Klundt at Sitel in Las Vegas, the picture shows that the diversity in call centers agents is a reality, that happiness at work is possible.
97
Daniel Julien in North Lauderdale
The founder of the N°1 in call-centers industry (Teleperformance) doesn't like to communicate. But, after a few months exchanging emails and some help from a Lucio, the Warren Buffet of the sector greets us in one of his centres for exclusive picture and interview.
101
Special issue
We won't copy Newsweek, who decided in 2012 to stop its print publication. On the contrary, we are launching the gold-plated cover!
2003
From Usbek to Rica
A 2003 editorial, where I try, like Les Lettres Persanes, to explain the surprise that Usbek would have had if he landed among us, our start-up and these billion spent in technology
2008
The French President, Nicolas Sarkozy, got his bank account hacked by a call-center agent
That happens even to the best of us! And this shows that data security is not a superficial matter. En-Contact will be the magazine that reveals those who got affected by this terrible story.
2015
And the Oscar goes to Patrick Drahi, from SFR productions
In this column, we are making fun of the shopping frenzy of the telecom Mogul and we are reminding that cinema is sometimes below reality.
2016
More than half of the French medias have lost their subscribers datas
The article, published on June 23rd 2016, is a deflagration about the CRM state and uses concerning datas management, including in the big French groups. Our exclusivity, taken by the AFP, will almost make the magazine website exploded.
---
---
2016
Chic-types in receivership, just like Save etc.
The start-up Chic-types files for bankruptcy, after being praised in many articles a few weeks before. In a humour column, we explain that maybe millions don't make the quality of an offer, that investment funds play a silly game sometimes. Second big traffic peak in the magazine website.
2017
Chuck Yeager in Africa in call centers
At that point, the magazine has started, for two years now, a collection of portraits on the VIP, Moguls of our sector.
Launched with a discreet man, Denis Akriche, the collection extends through magazine's issues. It cannot run out because of talents and entrepreneurs who exist and force the hand of destiny in the call-centers and customer experience industry. So much the better!
The add that almost caused an outburst
We are making fun of an initiative, fully covered, when some French stars from the 2000s hand out thousands of euros to start-ups after a 2 minutes' pitch. Some loved it, other hated it. There are icons one cannot touch ☺
To go further, don't hesitate to watch a short video about the magazine and his founder: Manuel Jacquinet.
By En-Contact