When all we want… Is the Crème de la Crème.
Publié le 11 janvier 2019 à 09:00 par Magazine En-Contact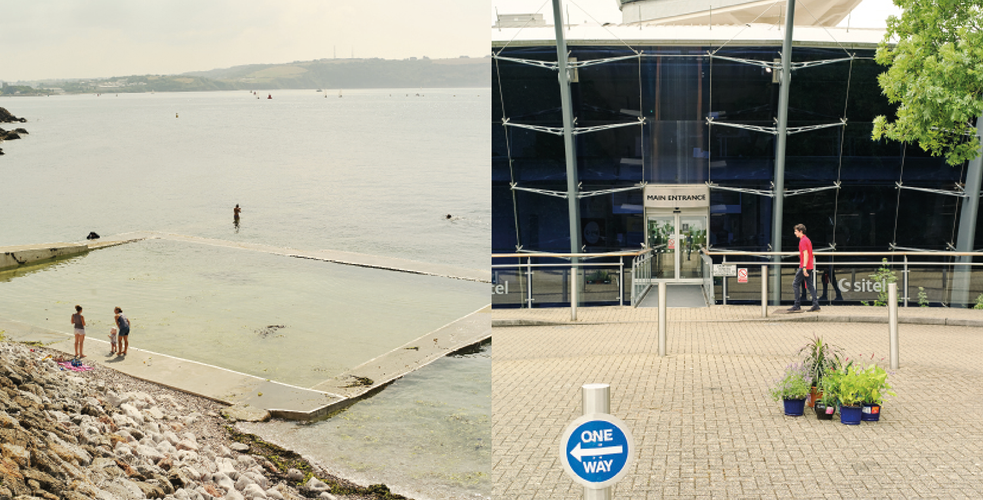 At the moment when we figure out the conditions of their leave (due to Brexit), we shouldn't forget that the British people have for a long time provided us with many reasons not to cut ties with them; the punk music scene & movement, UB40's 'white reggae', the soulful brit pop of Simply Red, Ken Loach, nearly any film with Daniel Day Lewis in it etc.
We discovered another reason, 350km south of London, after a train journey through the beautiful green countryside, in a village beside the sea. This reason is Nathan and his team, so British they have dubbed themselves 'la Crème de la Crème'. The English and their cream, it's a long story.
Ce diaporama nécessite JavaScript.
Plymouth, The Ship, The Daily Mail…
It's in this place with nearly 340,000 inhabitants, where they repaired nuclear submarines, where for decades they have been building boats and where the Axis powers bombed and largely destroyed during the second world war that the world's third biggest external call centre is situated, Sitel. Currently in 2017 it is their 10th office in the U.K. Not just situated anywhere, but on 'The Ship', an incredible building north of the city which has earned the architect (see below)**** not just glory and fame but real distinction and recognition.
The building –in the shape of a boat- seems to have a real affinity for the communication and media world, it housed the Daily Mail -a newspaper with a large circulation – until 2013. Set in the countryside and woodland areas, with an open roof allowing a 360 degree look over the countryside and the sea, this ship liner made of metal and glass is simply astonishing.
Sitel installed their 10th centre in Great Britain due to sustained growth of the company: the company's activities have grown at a higher rate than that of the market, nearly 12% per year (growth of the outsourcing market is at 4%). With over 650 collaborators (the associates), they insure quality customer service and technical support for distributors and enterprises in the utility sector.
Like many of the sites we have visited, finding new recruits is the main focus of attention along with refining and adapting their processes to meet the demands of clients who may want to have their own spin on their enterprise.
See my ship
It was a visionary and recognized architect who designed and drew the incredible building in which today is the site of the 10th Sitel ofiice in the U.K. Sir Nicholas Grimshaw (who designed Waterloo Station) imagined, drew and started construction in 1993. The site emerges on the top of a hill in a 12-acre park. Awarded for its futuristic concept, the boat would be home for many years to the Daily Mail, who have since parted from 'The Ship'. After serious renovation work on the building and nearly 2 years left empty, the building was then rented to Sitel who occupy it today. To see more about the history of the site, visit www.ship-plymouth.com .
Ce diaporama nécessite JavaScript.
Recruiter for John Lewis
Often awarded and recognized for the quality of customer service provided to their clients in their stores, John Lewis set the bar very high regarding the qualities and expected behaviours required from their providers.
It is a specialist in these matters, who had foreseen the need for these standards, who is responsible for this strategic mission. 'At Sitel we don't use classic tests and exercises for recruiting new employees but instead use a selection of specific tools allowing us to choose the profiles in respect to the customer culture. Only a small handful of candidates successfully pass the test but Agam Ahmed* hasn't lowered the standard yet.' 'I know exactly what is expected and so I prefer to wait to find an adequate acquisition'
This Anglo-Pakistani, former high level skateboarder, his silhouette refined by years of training, embodies the idea of calmness. Too many injuries and a back that's now a little damaged have moved him away from a sports based career, but he confesses he's happy with his move to Plymouth. 'Here, life is relaxed, there are big cities in England like Liverpool, London or Manchester where it's not like that. You can end up living a crazy life.'
From the ground floor to the first floor of The Ship you have wide span views leading to the woods and winding green alleys. There are walkers seemingly knowing where they are going, serene, smiling and content. Enough time to take a sip of tea just before they become small dots in the distance moving among the trees.
Would you like to be recruited to work in customer service for this prestigious British brand?
Here is a question used in the test that allows Adam and his colleagues to evaluate your reflexes and attitudes in specific situations you may find yourself in. Done face to face, the trainer evaluates the form and reasoning of your responses to identify your ability and profile as an advisor.
'You are just about to finish your shift and answer your last phone call of the day. The customer speaks very fast and you find it hard to understand what they are saying – you roughly grasp it is something about a washing machine. You begin to go through some initial questions to try and clarify the details and the customer continues to reel off details that you hardly understand. How would you respond to this situation?'
Ce diaporama nécessite JavaScript.
After selection and integration, training is imperative.
Nathian Carnall, the Site Director, keeps his cool when we start to tease him as he and his team begin their presentation on the team they are trying to recruit… 'la Créme de la Créme'. Everyone's a critic.
What is certain, like all the Sitel sites (see our reports on the Philippines, Managua and Kingston) the models of integration and skill building pathways are followed and monitored at every key step.
We wanted to stay but the train wasn't going to wait for us. The woman who picked us up in a Mercedes coupé navigated the turns on the descent into the city with the skills and majesty of Jackie Stewart 'I love Plymouth, I was born here and I'm not going anywhere' Ubi bene ibi patria that's what we thought when we heard this sentence straight from the heart of our fantastic driver. 'Homeland is where it is good'. Cicero's** motto embodied Plymouth. Thank you Nathian!
By Manuel Jacquinet
*Adam Ahmed has since left the Sitel organisation.
---