Webhelp opens its tenth French contact centre in Tourcoing … and its capital to outside investors?
Publié le 08 avril 2019 à 14:53 par Magazine En-Contact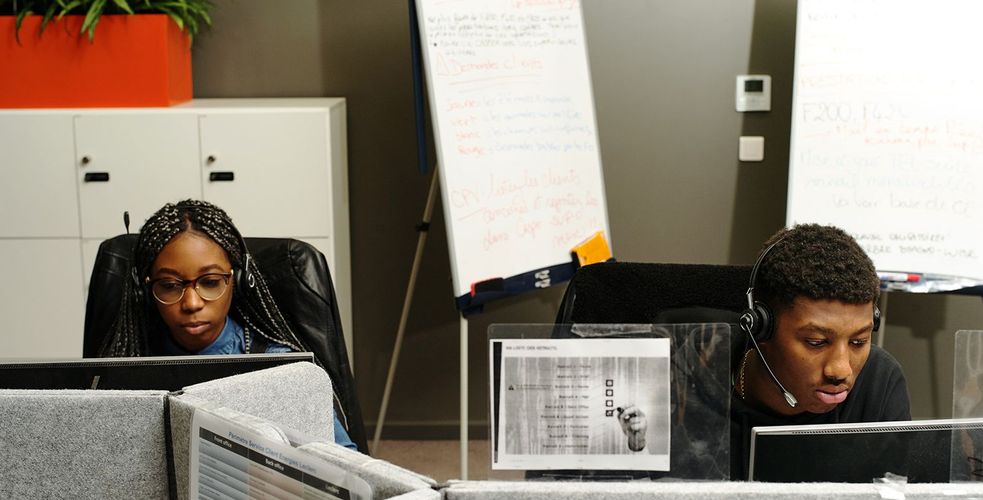 Fourteen years after the opening of its first site in Caen, France, on Friday April 5th, Webhelp welcomed its customers, a minister (Mr Darmanin) and new employees to the former industrial city of the North: Tourcoing. The company is aiming to provide 500 jobs within two years. The new centre is less than 500 meters as the crow flies from the new Booking site, which is also recruiting.
3800 jobs created over 14 years
The North or Picardy, which we no longer have the right to call it, these are the regions that seem to be now suitable for one of the leading providers in outsourcing of customer relationships: Webhelp. Six years ago, it was in Compiègne that the company opened its ninth contact centre, but Tourcoing was chosen as the new location. "We selected three cities that met the requirements we have:" says Vincent Bernard, president of Webhelp France: "(it needs to) have a sufficient pool of jobs with a significant unemployment rate, be close to Paris – since our clients often visit – and have suitable premises or premises that can be developed quickly. Reims and Dijon, the two competitors on this project were thus preceded by Tourcoing whose former industrial wasteland is now repopulated: Grain de Malice, are also on site, sharing these very clear and modern premises with Webhelp which already employs more than 160 employees on the site. In fourteen years, the company which had mainly focused on offshore and nearshore (countries close to France) accounts will have created more than 3,800 jobs in France. In 80% of cases, it is a permanent contract and on average remunerated on the basis of a SMIC plus 15 to 20% for a tele advisor, including performance bonuses. In Tourcoing, 37-hour and 39-hour week contracts are offered to employees as well as a possibility of annualized of working hours. Thirty-two free jobs were also signed, a sign that the company is deploying, like others, a real social engineering to recruit and train its employees. Ludovic Lempire, the general manager of operations, said: "Our employees now and always have managed calls but also more and more emails or written documents, which requires a good level of spelling. We train them for this purpose, with providers and specific tools." Orthodidact or Projet Voltaire – developed by the companies Zeugmo and Woonoz respectively – equip 90% of the French-speaking telephone platforms when they develop the mastery of professional writing. Recruiting, training and retaining call centre agents & customer-oriented supervisors and the ability to manage multichannel contacts is essential. In a tense market, Booking, just a stone's throw away, is building its new site and is trying to recruit more than 200 customer advisers. How are they doing? It's hard to know: our magazine has been trying to reach a Booking representative in France for over a year, without success. ?
From Jean-Louis Borloo to Gérald Darmanin or Bank of America, they believe in the contact centre industry
On the sunny terrace where hundreds of guests enjoyed a remarkable cocktail (thank you to the caterer Méert), the minister rubbed shoulders with clients of Webhelp (La Redoute, Enedis, Leclerc Energy, etc.), the representatives of MEL (Metropolis Lille University) and Lille's agency, all of whom have favoured the rapid installation of Webhelp in Tourcoing: when the decision was made – after a four-month preliminary study – the site was found and laid out in another four months , a very short deadline. To respond quickly to customers, service providers need a responsive eco system and sometimes support at the highest level: Jean-Louis Borloo (former minister) was personally involved in the creation and installation of the call centres for B2S (now Comdata) in Valenciennes in 2001 (under the name CRM 59). B2S had promised at the time to create 300 jobs on the spot, CRM 59 has more than 700 employees. "The companies of call centres keep their promises and have become respectable in the eyes of the public actors," said Vincent Bernard. In Tourcoing this Friday, the former mayor of the city and now Minister of Action and Public Accounts, Mr. Gérald Darmanin also took to the floor. Notably to indicate that "in terms of outsourcing, it was not necessary to be an ideologue but to look for how public money can lead to the best performance in terms of service." Earlier in the week, he was given a report, co-authored by Webhelp (see our article). The contact centre industry creates jobs that are sustainable and delivers on its commitments. Politicians know it.
But market growth will mainly be at a global level or through the ongoing consolidations. It is not surprising that we learnt this morning (Les Echos) that KKR (Private equity company), the majority shareholder of the Webhelp group, has entrusted an American bank (Bank of America) with the mandate to expand the rank of shareholders of the society. Webhelp opens new call centres and buys them like its competitors. It opened its capital for this purpose. But it will not expose this at the conference that opens tomorrow: le Salon Stratégies Clients. Like its global or European competitors (Teleperformance, Convergys, Comdata, Majorel, ex-Arvato, etc.) the allocation of its resources apparently imposes arbitrations.
By Maude Cavat and Manuel Jacquinet
Cover picture : Webhelp Tourcoing – © Edouard Jacquinet
---