"Sophie Vermeille knows how to play 3-D chess" (Carson Block /Muddy Waters Capital )
Publié le 17 mai 2021 à 09:31 par Magazine En-Contact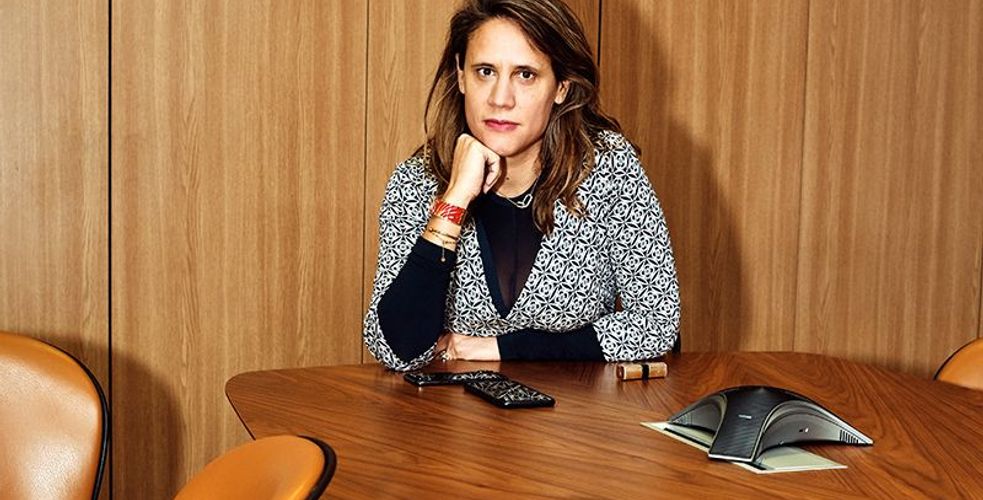 She is sometimes presented as the Erin Brockovich of bankruptcy law and minority shareholders. En-Contact has had a short talk with this independent, discreet but efficient lawyer who lives and works mainly in Paris.
En-Contact: A few cases related to publicly traded companies have made you a name in the legal-economic landscape in France, and you are sometimes presented as the Erin Brockovich of bankruptcy law and minority shareholders. Can you remind us of these cases and tell us what you were doing or for whom you were working?
Sophie Vermeille: It is best that I don't talk publicly about my cases, if only because some of them are still subject to investigations. I represented so-called short sellers, including Muddy Waters LLP, in the Casino/Rally case. My clients were convinced that the market had not appreciated the seriousness of the financial difficulties of the group whose holding companies were eventually subject to collective proceedings in May 2019. Short sellers are difficult clients to defend because they bet on the decline of the stock price of companies in which they have identified weaknesses not perceived as such by the general public. Obviously, this does not please people. Research has shown that they do the markets a favor, even if sometimes there can be abuses. I am happy to defend them for this reason. I also sometimes act on behalf of minority shareholders, individuals (Solocal and Casino cases) and alternative investors (hedge funds), as for example very recently in the Suez/Veolia case. I am interested in cases where investors' rights are violated by a French-style capitalism which allows certain actors, for example managers or controlling shareholders, to harm third parties without bearing the consequences of their actions.
In each of these cases, the reactions were strong, and created shocks in your personal life. Is shaking up French capitalism risky, and why?
In some of the cases in which I intervene, there is a lot at stake, both financially and in terms of reputation. It is therefore not surprising that some people are ready to do anything to silence you and to make sure that you abandon your clients. Let's be clear, we are not in Russia where lawyers can be killed for taking cases like mine. That said, even in France, choosing this type of case can have significant repercussions, whether in your personal or professional life. You have to be able to roll with the punches and bounce back.
Where does this desire to restore the rights of minority shareholders and creditors, one of your specialties, come from?
Beyond the idea of protecting minority shareholders or creditors against majority shareholders, the objective is to try to show that another type of capitalism is possible in France. A capitalism with less connivance, where personal relationships between market players and public authorities are less important. Ultimately, the idea is to allow French capitalism to be more transparent, more respectful of everyone's rights and therefore more efficient. I want the market to be better able to sort out projects that deserve to be financed and those that don't. This may sound very utopian, but it is a given that the virtues of the market are superior to any other system of organization and financing of the economy (starting with the banking system). In spite of the personal and professional difficulties that I have experienced, I have no regrets, I am like that. I hope that people who agree with this will continue to ask me to defend them.
What do you seek to do within Droit & Croissance, the think tank you have created? How can you summarize the promise of this think tank whose work has been remarked far beyond the borders?
My activities within the think tank and my professional activities are quite distinct, which some people have found difficult to understand (or have not wanted to understand). The think tank seeks to demonstrate that in order for France to benefit from a meaningful economic growth, it is necessary to significantly improve the level of research at the intersection of law and economics. The weakness of French research in this field is one of the main reasons for certain dysfunctions in the markets, but also more generally in the economy. In France, historians and philosophers are given more of a say than micro-economists in explaining how the world works. Lawyers are also (or have been) left out of the public debate, because they do not integrate reasonings based on economic research. Without independent academic research at the intersection of law and economics, the country remains in the hands of an elite that is prone to maintaining its legal and de facto privileges and does not move forward. These privileged people slow down innovation and growth. This is my deep conviction.
Activist funds are sometimes accused of cutting up sleeping companies, of having only a short-term and speculative aim. Does this correspond to a simplistic view of their role? Isn't French capitalism and its leaders, its tutelary figures, largely as dangerous because of its consanguinity?
Droit & Croissance does not defend activists as such, unlike me when I intervene as a lawyer. D&C members rely on international academic research when they say that overall, the benefits of activism outweigh the harms. D&C defends the idea that financial markets, like democracy, only work if there are checks and balances to protect society from certain powerful men. In France, there is an inordinate taste for the vertical exercise of power, as well as an immoderate expectation of the arrival of a providential man, whether in politics or in business. This is extremely dangerous. Once you are convinced of this, you understand, for example, the interest of having disruptive elements in financial markets that will re-establish a certain balance of power between managers and investors. Public authorities must ensure that no one favors too much their own interests to the detriment of companies and, ultimately, of the general interest. No one is exempt from criticism, even sometimes those I defend. That said, we observe that in France, our politicians and judges are "captured"—sometimes in good faith because of their ignorance—by the powerful in place. I do not believe in the theory that there is a generalized conspiracy to allow an elite to enrich itself at the expense of the majority.
The association Anticor was recently reproached to have received funds and support legally paid, but coming from an entrepreneur with accounts and holding companies located in Luxembourg. Should the donors and supporters of think tanks be identified?
Everything is public and online on our website. Droit & Croissance does not need much money to operate. In normal times we do not need more than 150,000 euros per year, knowing that in this budget, a very large part is used to pay the cost of organizing international conferences on the themes we cover. We are careful not to depend on any major donor and to seek funding from people whose interests are not aligned. The think tank trains young people to become lawyers in the most prestigious law firms (which defend incumbents rather than disruptors, unlike me) or to do research in the best universities in the world. In exchange, they contribute to the good functioning of the association, which allows us to have very low structural costs and thus to preserve the independence of the think tank. No one from the outside can influence our research and this leads very prestigious universities, such as Yale Law School, Toulouse School of Economics, Columbia Business School or Oxford University, to support us.
About her
"I engaged Sophie as part of our legal team because she knows how to play 3-D chess. First, she has proven herself to be a tenacious fighter with tremendous courage and stamina. Just as important, she had developed an excellent understanding of the politics, relationships and motivation of people in government, the media and at the regulator." Carson Block, Muddy Waters Capital.
By En-Contact Magazine