Ikea has come to town: big expectations
Publié le 06 mai 2019 à 15:36 par Magazine En-Contact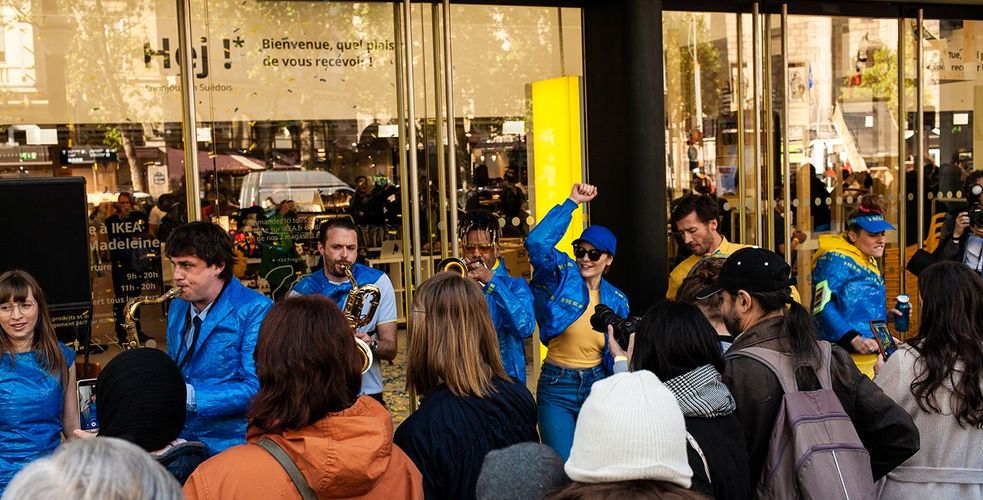 Guided customer journeys and personalized crockery: the new customer experience kit?
There was a crowd gathered this morning in the heart of Paris, for the opening of a new store for one of the brands that has changed the face of shopping since its creation: Ikea.
There were customers happily waiting in line with employees and musicians caring for these Parisians of all ages, and warmly welcoming them into the new store with music and madeleines.
Forget about shops in industrial areas and giant shopping centres in distant suburbs: it is in the heart of the city that the king of kit furniture intends to renew its promise to offer new shopping experiences and streamlined customer journeys
This morning at the Madeleine we were talking not only to the DG of Ikea in France, the new director of the store and the Ikea Worldwide CEO but also trade unionists of the CFDT and the CGT. For the latter, the madeleine store was sad because of a "refusal of dialogue (sic) on a PSE (plan of reconversion) in progress."
For the visitors of all ages –some of who were interviewed by En-Contact – their fear was different: "will I be able to find everything on the spot, despite an inevitably reduced stock?" and the most heard question was:
"How do I get these damn self-checkout terminals to work?" The answer and any other help at these terminals was kindly provided by specific staff with their informative t-shirts.
There was a crowd in the kitchen department, where you can now get assistance and arrange your own kitchen space on the computers and 3D programs that are graciously provided. Mobalpa and Hygena may be feeling concerned facing such a surge of technology and assistance.
The best idea we saw this morning was in among the kitchen supplies, offering personalized glasses to customers. Coming from Plessis-Trévise, Nadège takes a name or word of your choosing and engraves a series of glasses with said word. In a few seconds the announcement of this opportunity – proclaimed through his microphone – is enough to create a large queue in front of Nadège Ogé (the boss of Fetoncado).
Proximity, personal offers, customization… if this new kit for customer experience is the reinvention of past traders, Felix Potin and Boucicaut must be smiling down on us today … J
For data enthusiasts, 3 million customers are expected in this store at Madeleine. To be continued.
By En-Contact